Thank you for visiting our gallery where we turn your dreams into a reality.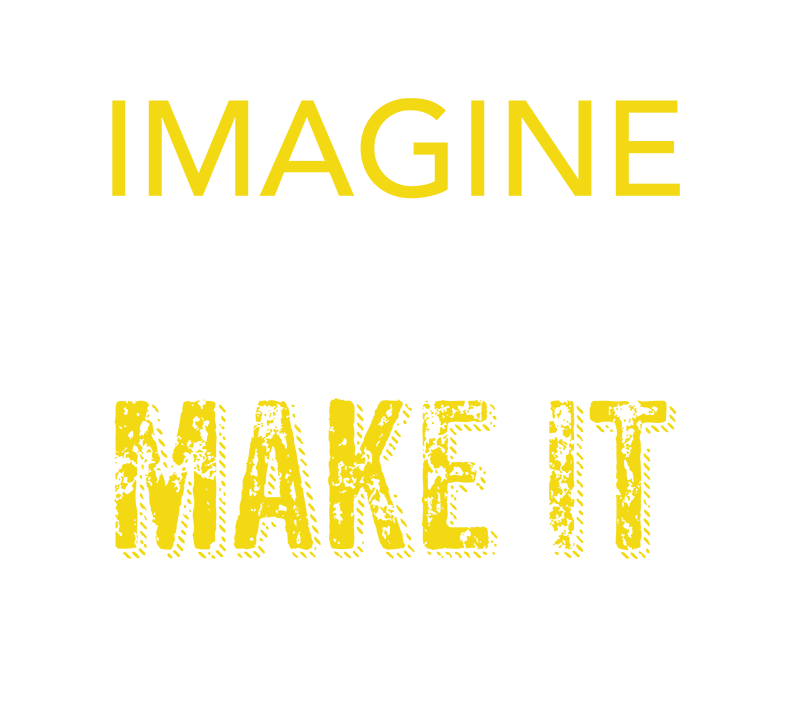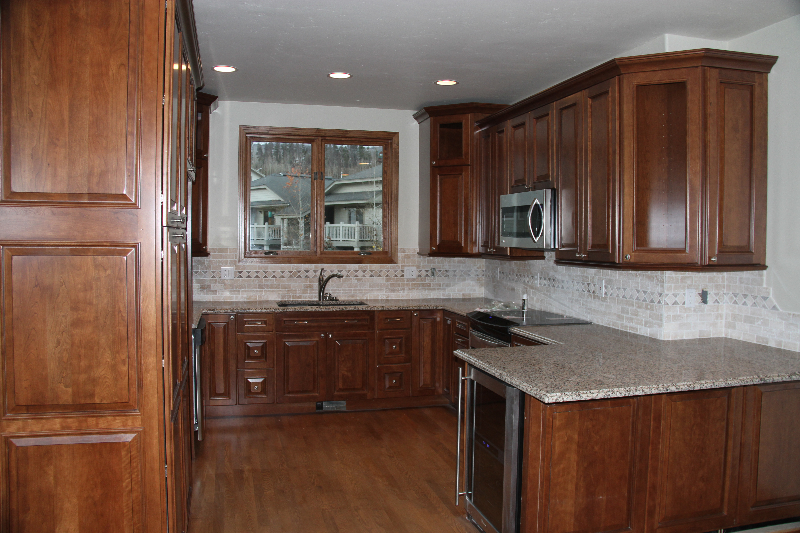 This town home was in need of updating. There was wasted space that we knew we could help with. The kitchen needed cabinets that were more functional and beautiful at the same time and new flooring throughout. The living room was losing lots of space because there was a second set of stairs that went to master bedroom. We do not know why it was there but it was coming out! The bottom picture shows in the ceiling where that staircase was. So much more room now! We also built in a cubby and cabinet for an entertainment system. Even more space gained! New energy efficient windows and french doors replaced the old ones, new doors throughout and an updated stair railing was added. The results were stunning.
The children were grown and off to school, so the homeowners wanted an elegant kitchen and dining area for entertaining. New appliances throughout and removal of cabinets above the side counter area to open up the space into the family room. The cabinets are a deep rich color that compliment the new counter tops and the stone work behind the stove really pull in all of the hues of the cabinets and counter tops. A beautiful welcome feeling when you walk into the room.
Heritage Inn, Idaho Springs, CO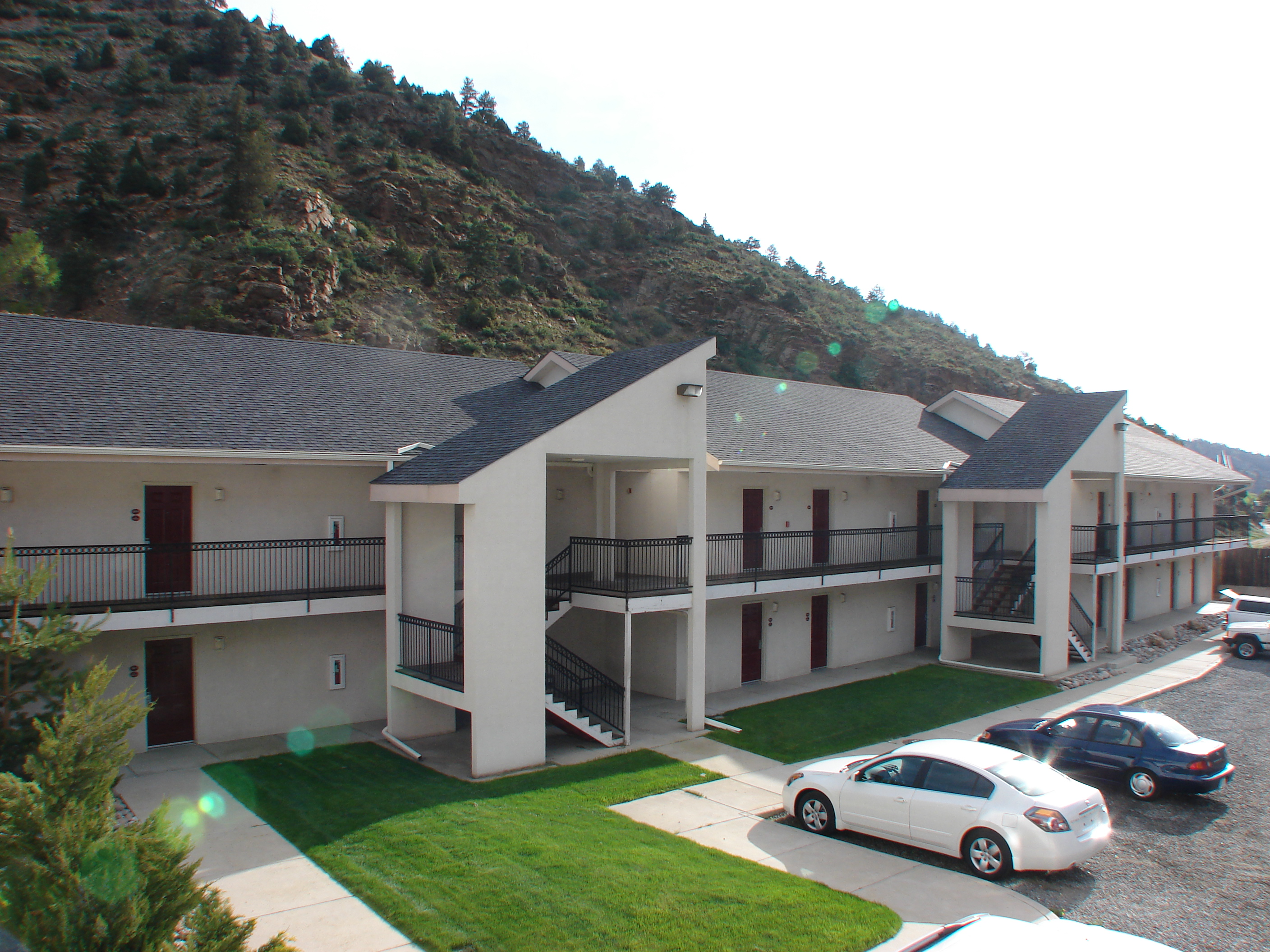 The manager called in a panic. There was a 4 inch fire sprinkler line that had burst and flooded more than a third of the new wing of rooms. The worst room had 4 feet of standing water in it. We were there the next day to assess the damages and get to work. With flooding timing is everything. Every single room was stripped down to the studs and put back together in the dead of winter. (mid January) The rooms had to be heated 24 hours a day so we came in the middle of the night to re-fuel the diesel heaters. A re-flood occurred in some more broken pipes but renovations were still completed and all of the rooms were back in use for the spring/summertime rush.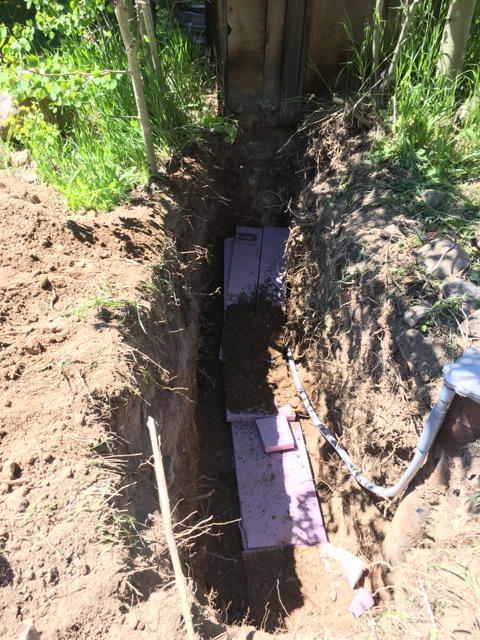 Replace old and broken waterline in Empire.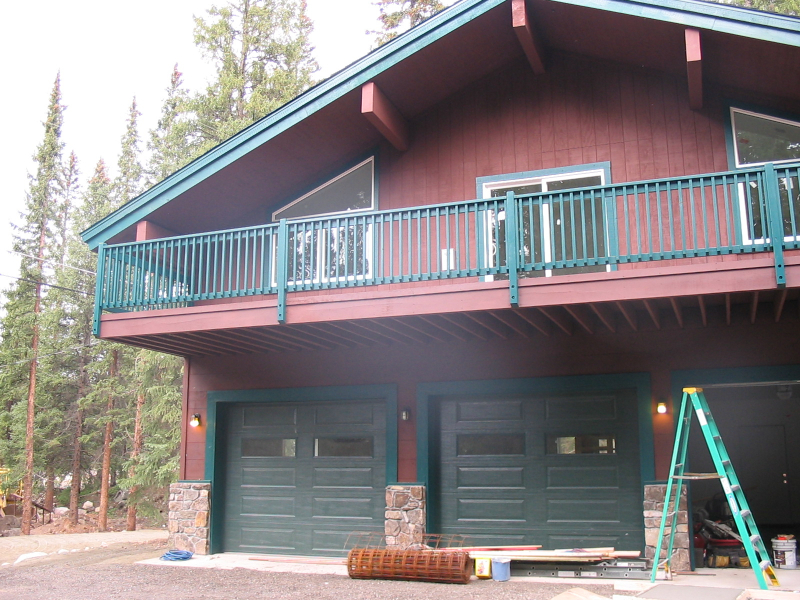 This home is a vacation home for lots of family and friends. The owners wanted an area that was a bit more private when the many guests would come vacation with them. The answer was to build a three car attached garage and master suite of 1600 sq ft above it. The master suite included master bedroom, master bath, master closet, sitting room that was open to bedroom, a snore room (a small bedroom for the husband to go to when the snoring was too much for the wife) and a bathroom and closet attached to the snore room. The sitting room also had a couple of cabinets, sink and counter space for coffee maker. A deck built onto the suite allows for morning coffee to be enjoyed while viewing the gorgeous view.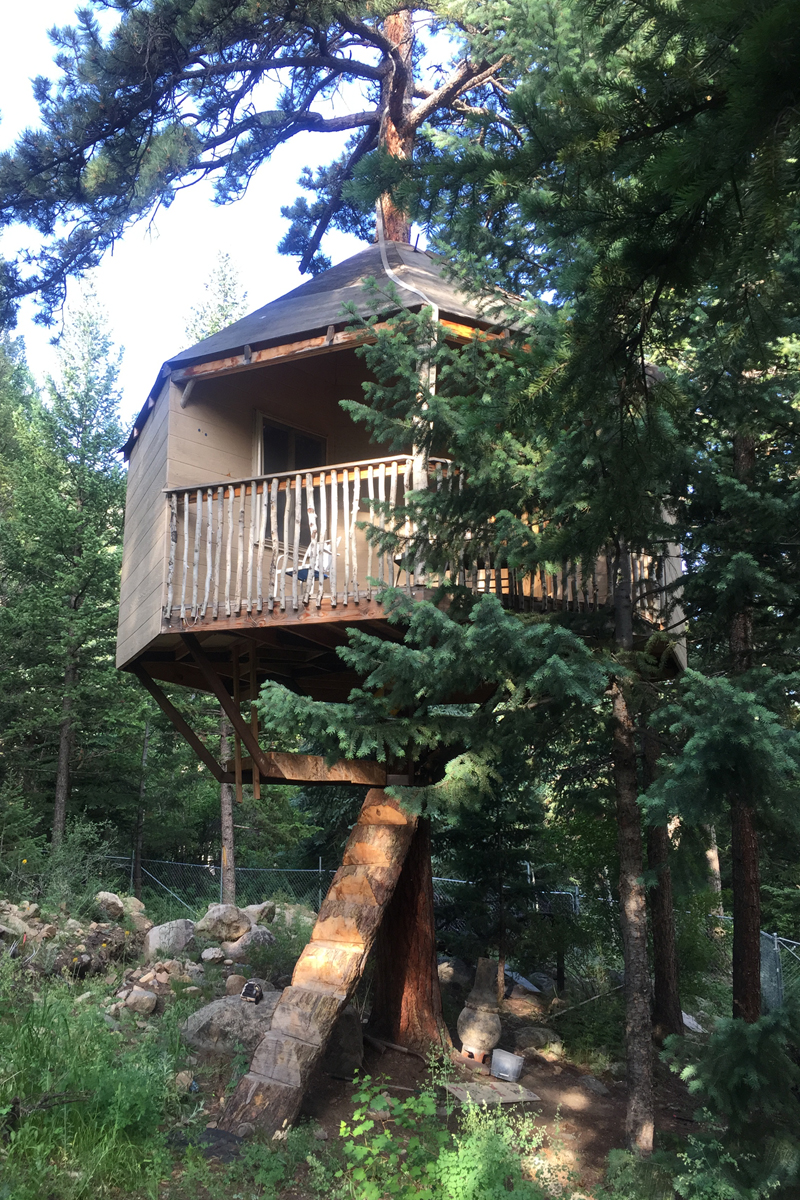 This guest room was added in a tree house. The house itself is very small and not really any room for out of town guest. The solution was build a tree house that can double as a guest room. Its 240 sq ft with a deck, sliding windows and a lock on hatch door for animal safety. For the summer vacationers, this is perfect. The guest who have stayed in it, love it! Privacy for out-of-towners and its a Colorado adventure.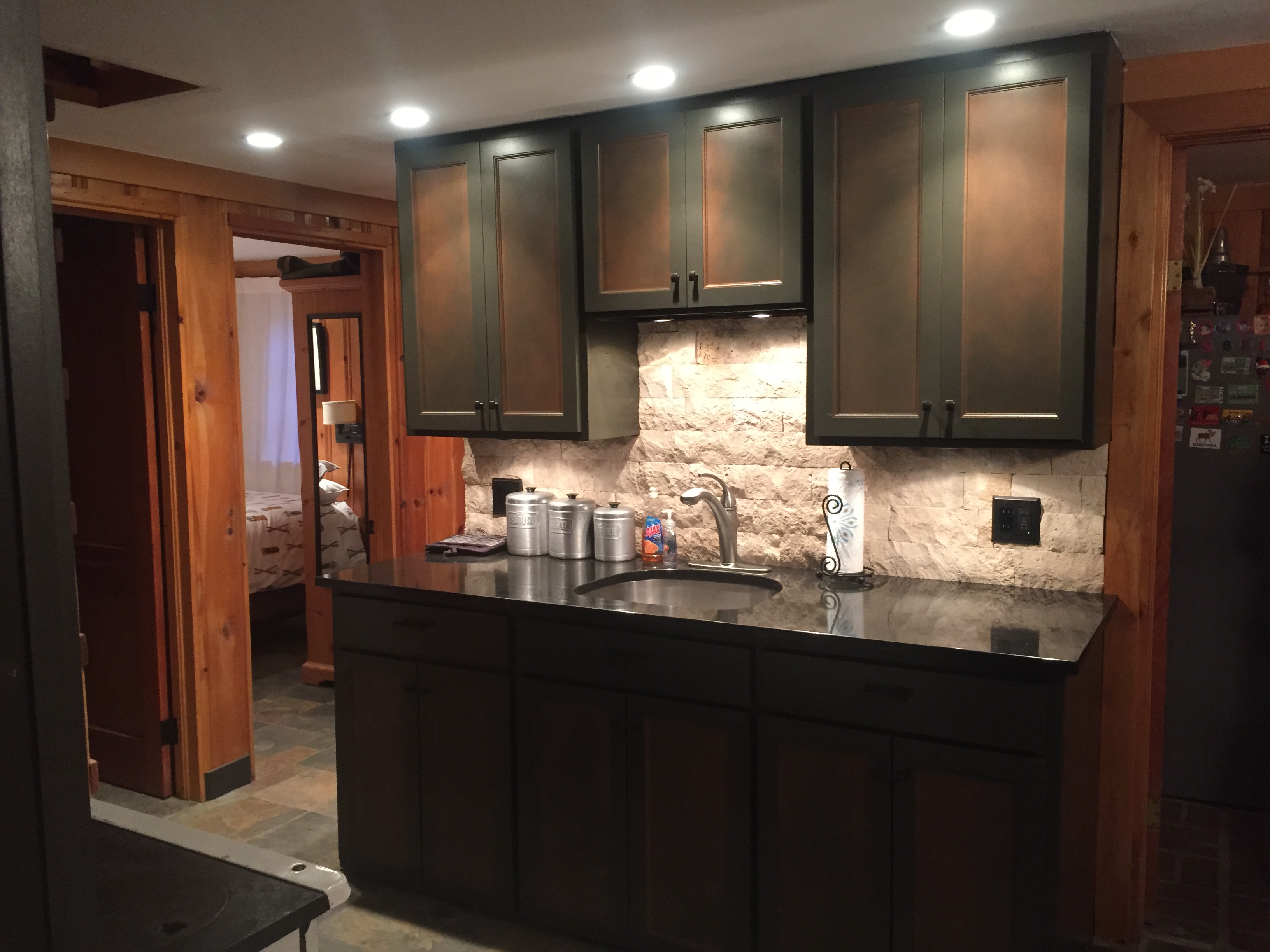 This cozy cabin is now as beautiful as the woods it sits in. New flooring went in the kitchen, bathroom and both bedrooms. The cabinets were refinished with new doors and hardware. New countertops and tile behind the beautiful antique stove. Now this stove really stands out and stays with the integrity of the cabin. Metal pieces were added above the stove and really tied it all in. And the bathroom is unlike anything you will find in a little cabin in the woods. Here we have included the before pictures as well.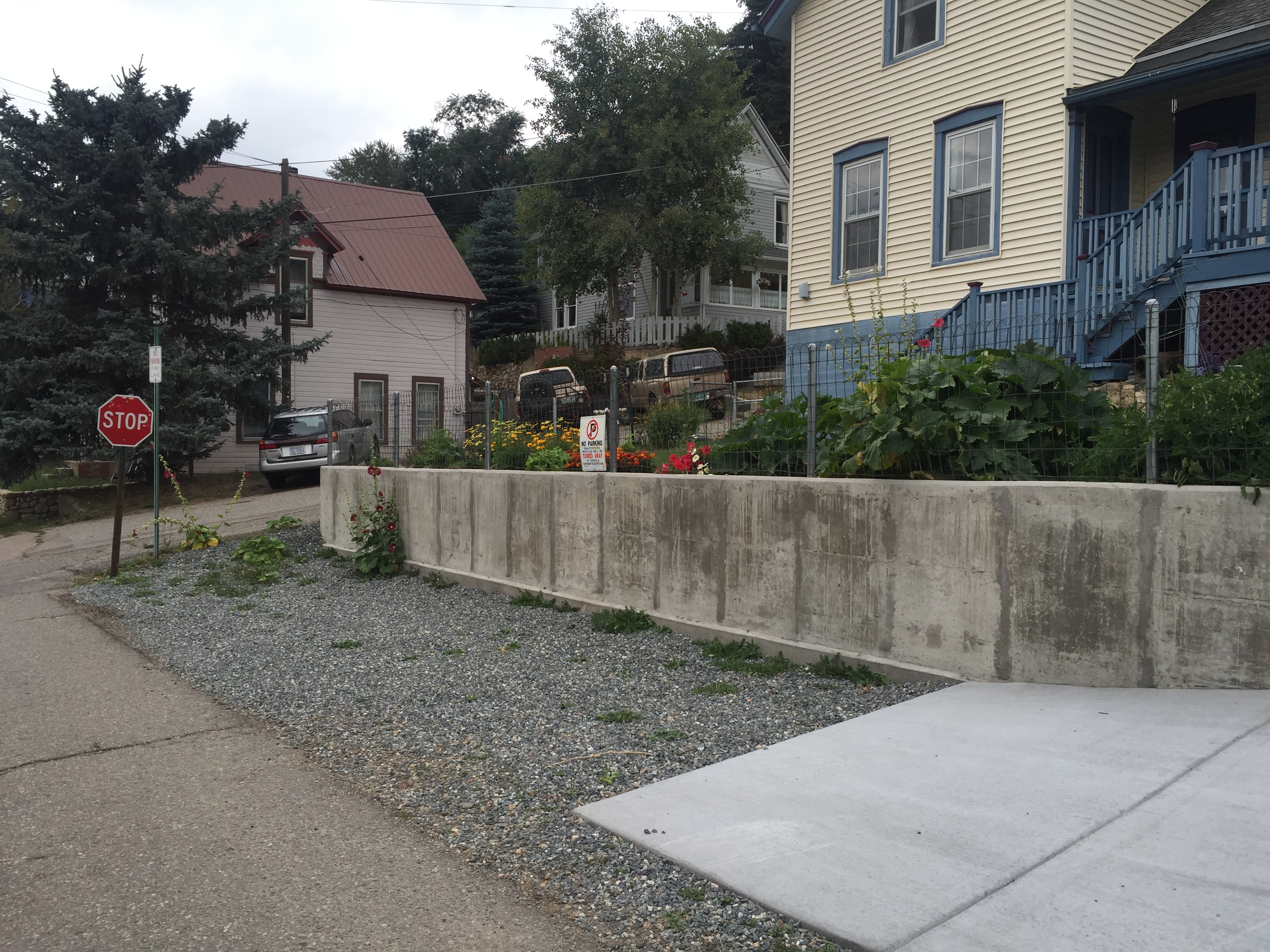 If you have ever been to Virginia St or Wall St in Idaho Springs you know that parking is a problem. To fix that issue we excavated out part of the homeowners front yard and put in a retaining wall. A little gravel was added and concrete driveway and instantly private parking spots for the homeowner! Go to Client page to see what Sarah Porter had to say about her project.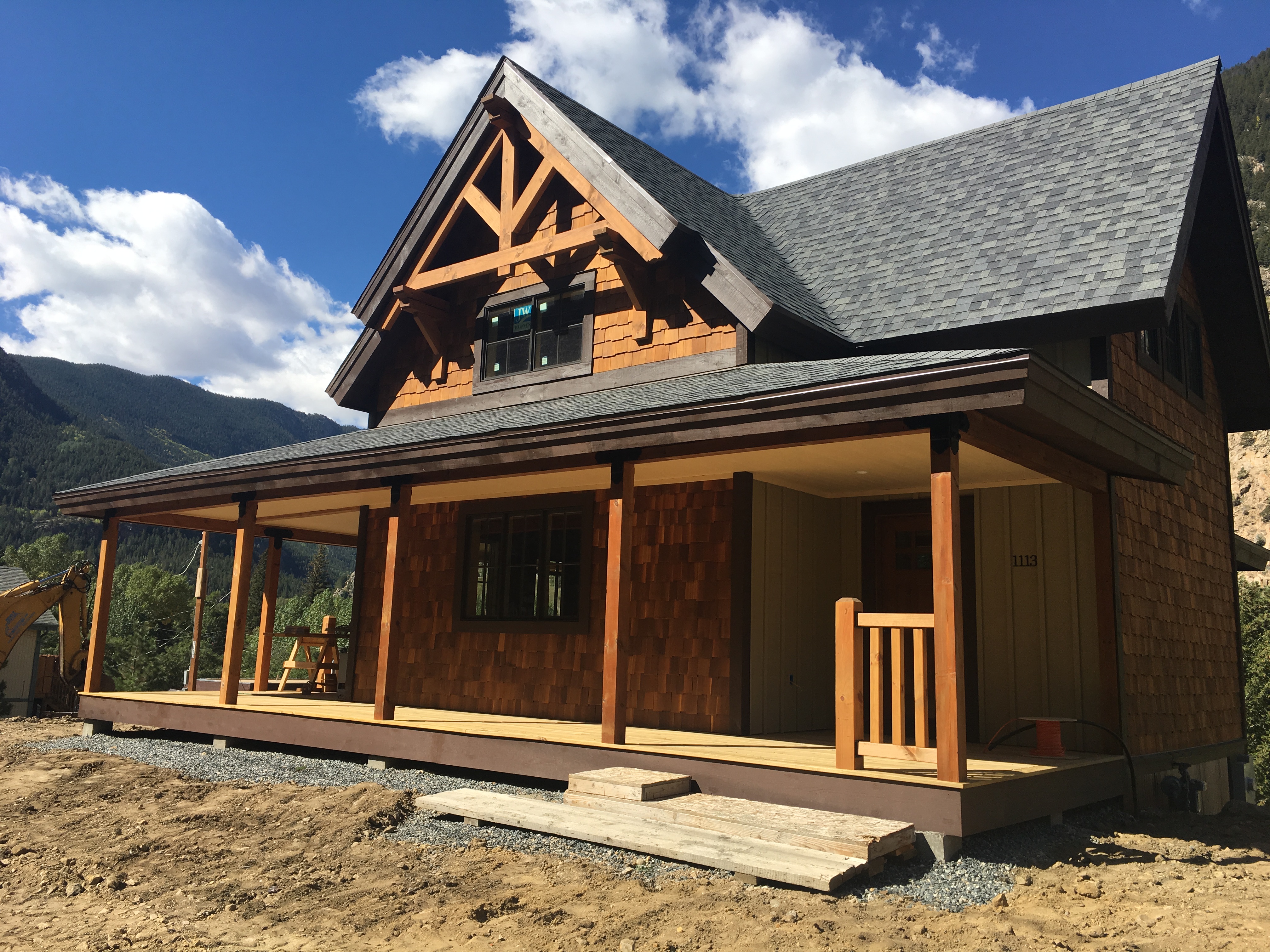 Beautiful 2,400 sq ft home built in Georgetown. The homeowner wanted to do the interior work himself and that is perfectly fine with us. We took care of everything underground and outside building. Let us know your vision for your dream home and we can make it happen.
Steel Building in Clear Creek County, CO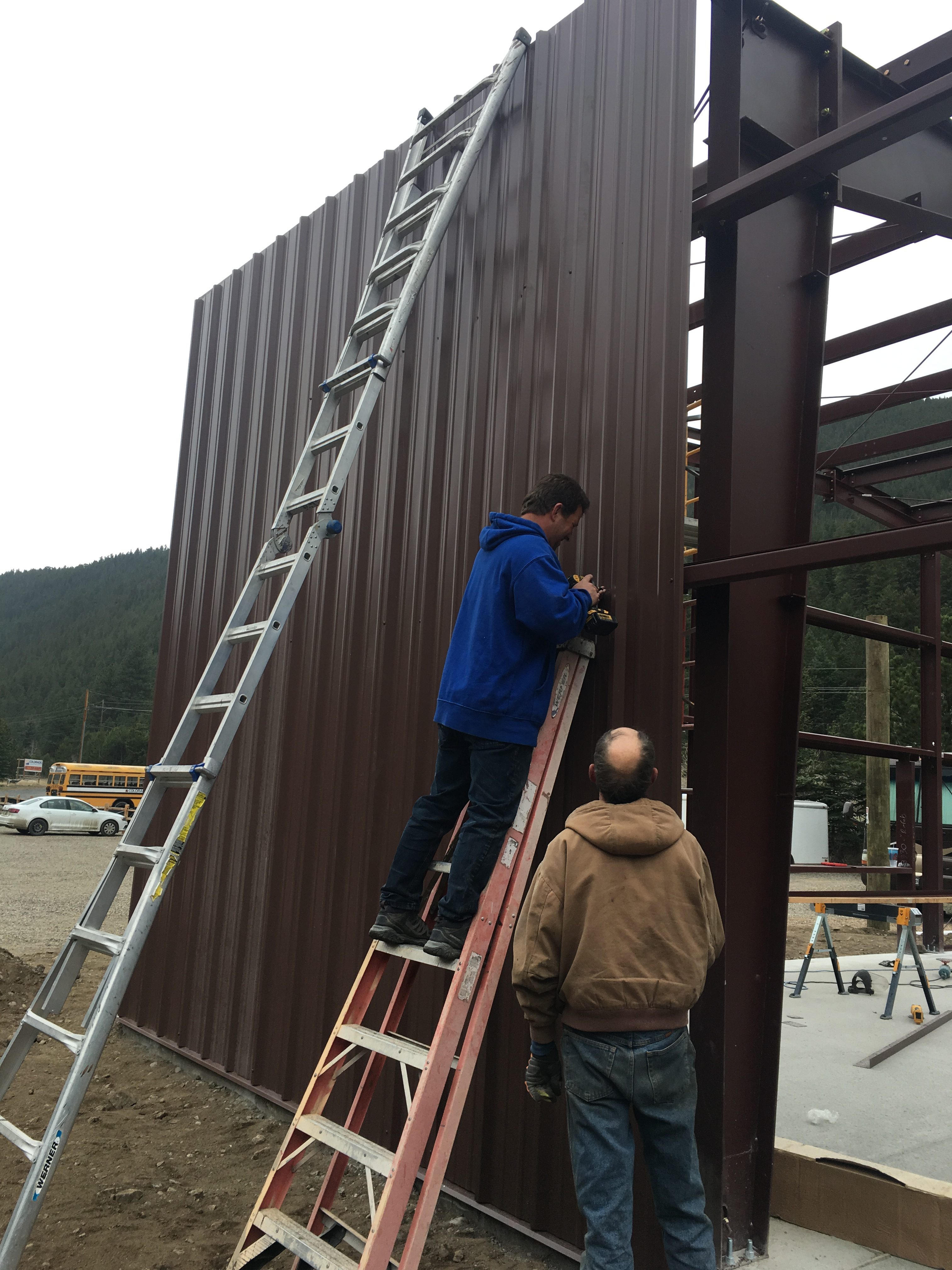 STEEL BUILDING? Absolutely! Have a steel building that you need put up for extra space shop or garage? We can take care of that too.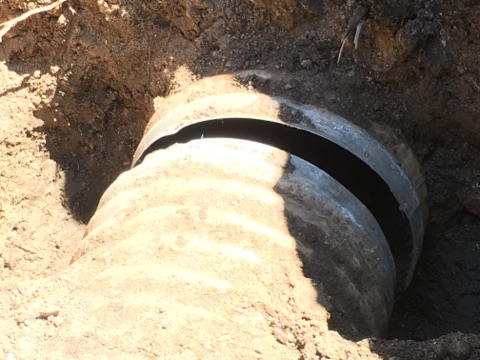 We take care of culverts too.
House Remodel in Idaho Springs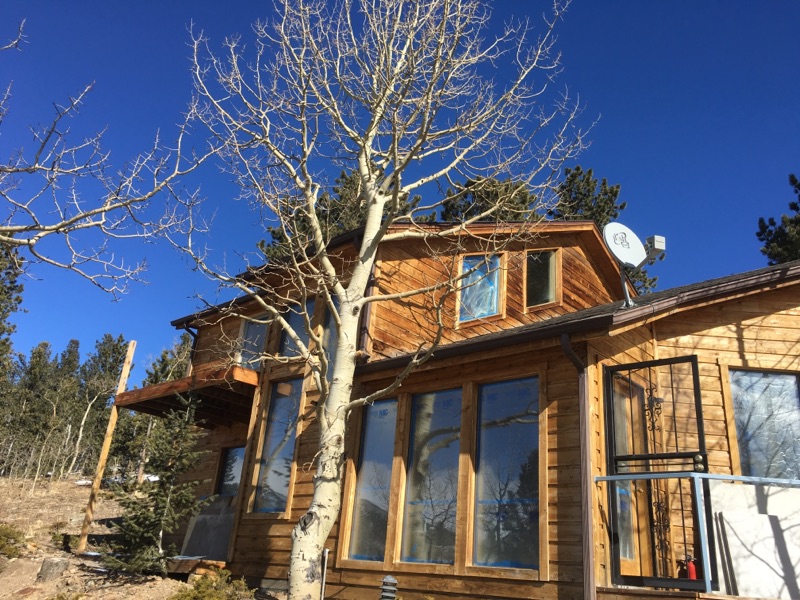 This was a complete renovation…to the studs. We replaced flooring, ceilings, kitchen, bathrooms, electric, plumbing, and the staircase. and as you can see beautiful results.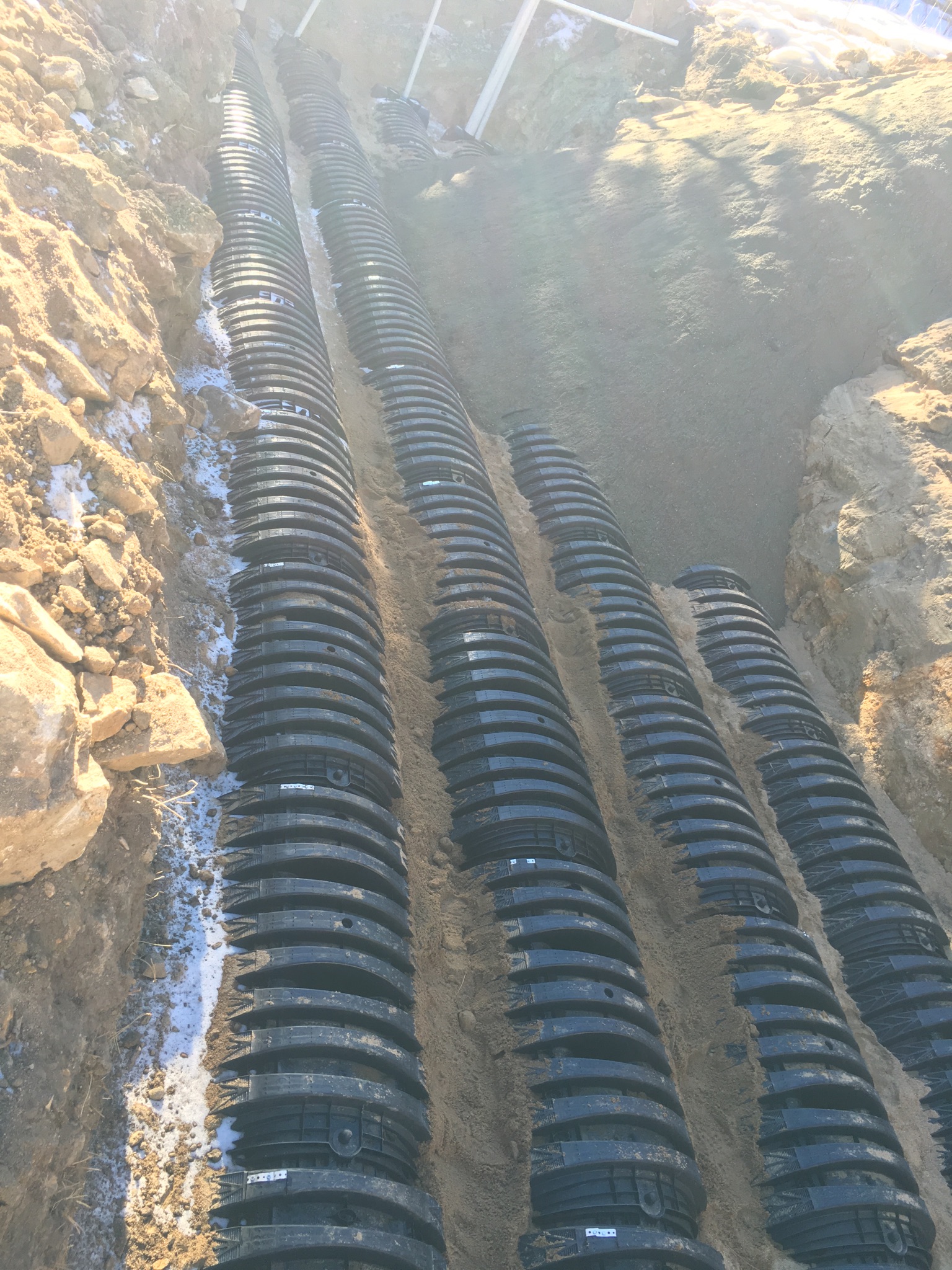 Leitchfield? of course we can take card of that. Pictures of installation of leitchfield for 5 bedroom house.
A bridge that was installed incorrectly needed to be reinstalled. So a new abutment for the bridge was formed and poured.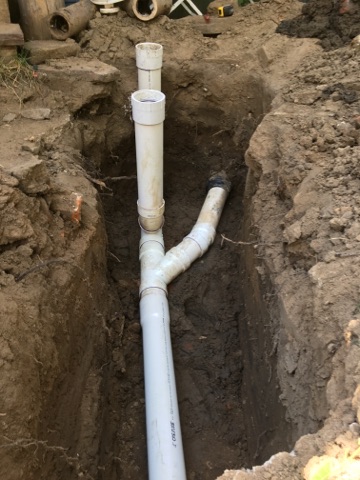 Sewer Line-What made this challenging was that the broken sewer line went under a concrete pad of their garage. The entire sewer line service had to be replaced.
Rec Center Demo in Winter Park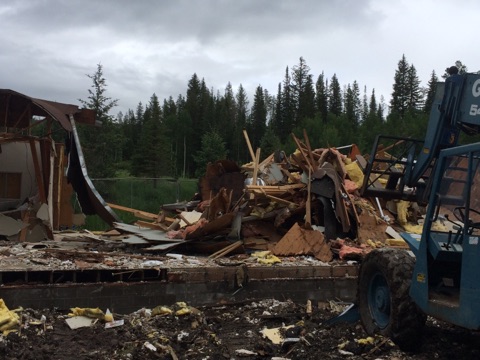 A Recreation Center in Winter Park needed to be demo, removed and plot excavated for new Rec Center build. Swimming pool needed to be removed and truck after truck of concrete removed along with the building.
Kitchen remodel in Idaho Springs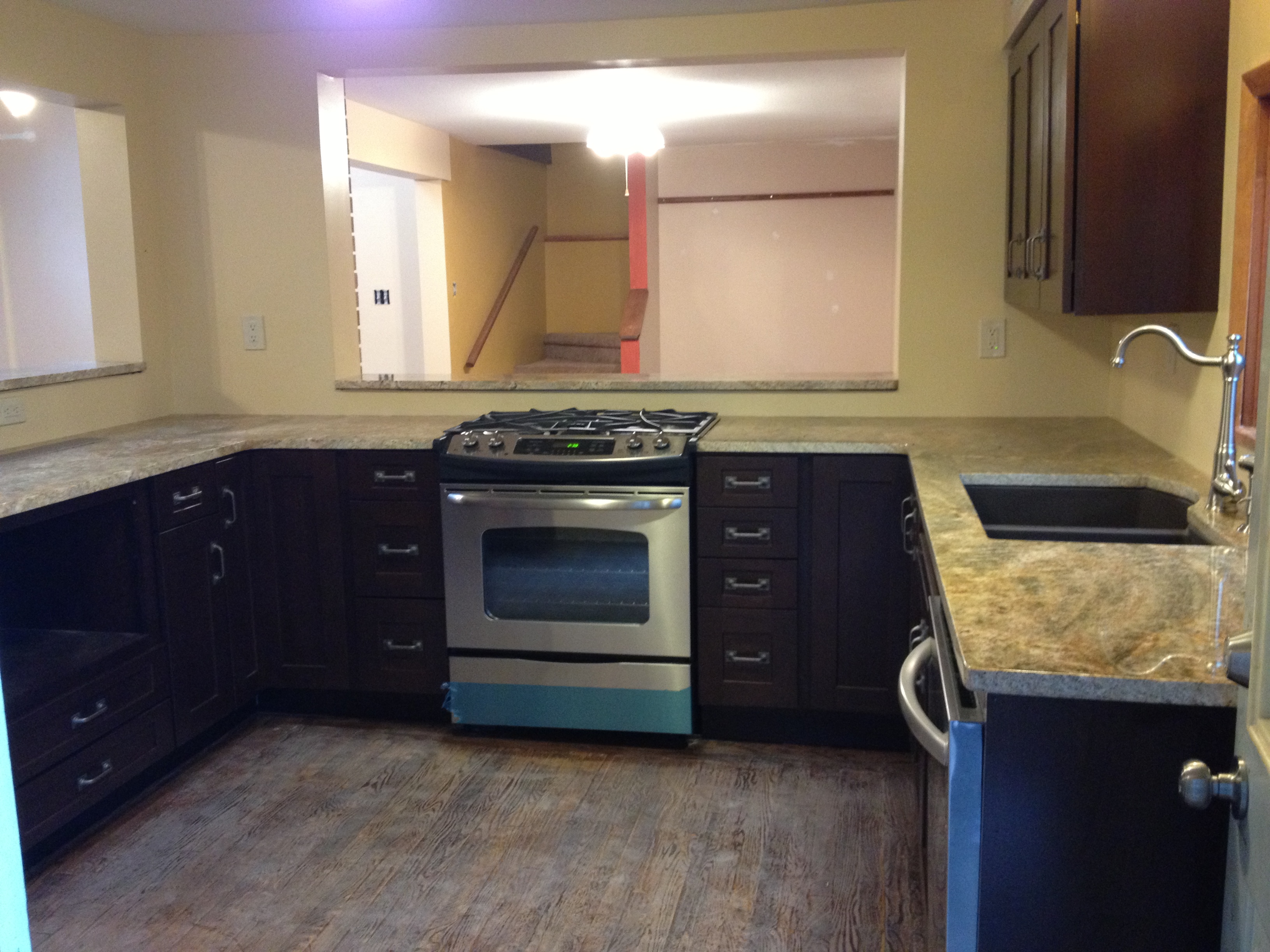 A kitchen remodel with before and after pics. The dining area was directly on other side of wall where the new stove is so we took a section out to open up the space. There were wood floors throughout the house that just needed a good sanding and finish. We also put new carpet in bedrooms and up staircase…it made such a difference.
Boulder to move in Idaho Springs, CO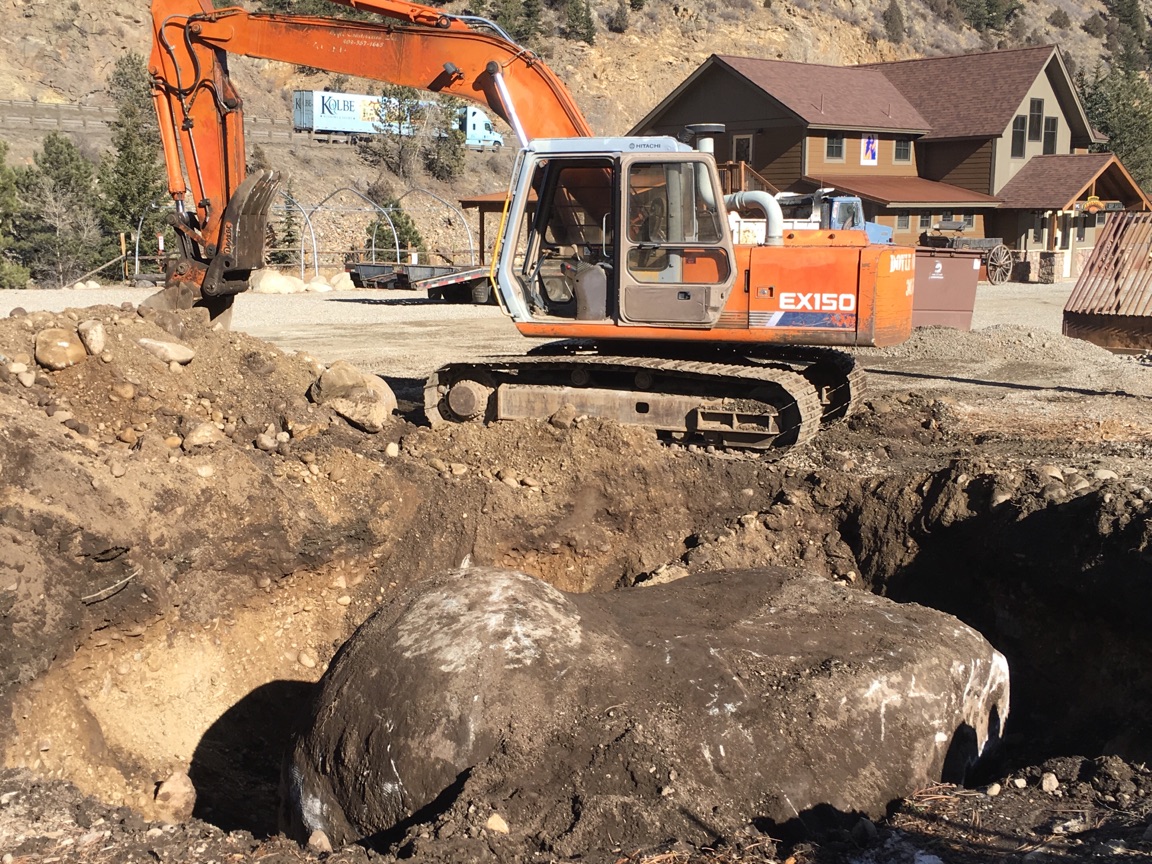 We have the equipment and know how to get your unexpected rocks moved out of the way. Our excavator can rip through a lot but sometimes you need a little extra to pop them apart. We can take care of it. You never know what you will run into digging in the Rocky Mountains.